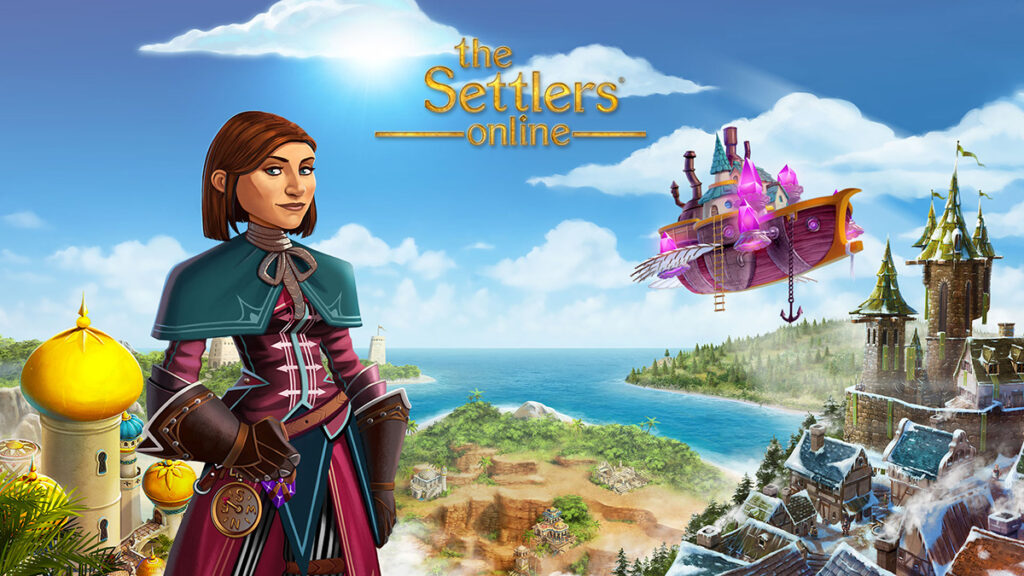 In The Settlers Online, players must build and grow a settlement by gathering and managing resources, constructing various buildings, and optimizing production chains to ensure the continued growth and prosperity of their territory.
Upon entering the game, players are greeted by a sprawling landscape waiting to be shaped by their touch. As the name suggests, The Settlers Online is all about building a colony, but it's more than just placing buildings and watching them grow. The game's environment is rich, consisting of forests, mountains, oceans, and resources. Each element of the world not only serves an aesthetic purpose, but also plays a pivotal role in the player's journey from humble settler to powerful ruler.
The game is all about strategy. Players must decide where to build, what resources to gather, and how best to expand their territories. From sawmills to barracks, from mines to trading posts, each structure serves a unique purpose. But buildings alone won't guarantee success. Strategic placement, timely upgrades, and efficient resource allocation are the keys to a thriving settlement.
Trade is another important aspect of the game. Engaging with other players opens up opportunities to exchange resources, forge alliances, or even enter into joint ventures. The game beautifully captures the essence of ancient trade routes and the intrigue of diplomatic negotiations.
While building and maintaining your settlement is the core of the game, The Settlers Online isn't without its conflicts. Players will face challenges from AI-controlled bandits and must strategically deploy their troops to repel these invaders. Successful battles not only protect your realm, but also provide rewards that can be reinvested in the growth of your settlement.
So what's the endgame in The Settlers Online? It's about expansion, influence, and creating a legacy. As players progress, they'll find opportunities to conquer new lands, interact with different civilizations, and cement their place in the annals of The Settlers history. But it's not all about territorial expansion. The game encourages players to evolve, innovate, and adapt to the changing dynamics of the world, making the journey as rewarding as the destination.
Succeess in The Settlers Online requires a blend of careful planning, strategic thinking, and a touch of adaptability. From managing your resources efficiently to forging strategic alliances, there are several ways to ensure that you emerge as a dominant force in the game. Let's delve into the best strategies for a player to succeed in this expansive online world.
Resource Management:

Prioritize essential resources in the early game, like wood and stone.
Ensure consistent and optimal operation of production buildings such as woodcutters and quarries.
Upgrade storage regularly to stockpile materials.

Strategic Building Placement:

Place buildings near their relevant resources to reduce transportation time.
Ensure defensive buildings like towers protect crucial settlement areas.
Organize buildings to allow room for future expansion.

Trade Wisely:

Establish a network of trusted trading partners.
Maintain fair and regular trades to build alliances.
Diversify trades to avoid dependency on a single resource or partner.

Forge Alliances:

Engage with other players to form alliances for mutual benefits.
Use diplomacy to maintain peace with neighboring players and avoid unnecessary conflicts.

Master Combat:

Upgrade and diversify your army regularly.
Study opponents to understand their strengths and weaknesses.
Engage in in-game events or quests for combat experience and rewards.

Continuous Learning:

Join online forums, discussions, and communities dedicated to The Settlers Online for tips and updates.
Adapt strategies based on the evolving game dynamics.

Plan Long-Term:

Prioritize longer but more beneficial upgrades.
Expand your territory strategically, focusing on resource-rich or strategically beneficial areas.

Stay Active:

Ensure regular participation.
Frequently check resources, building status, and army preparedness.

Participate in Events:

Engage in special events in The Settlers Online for unique rewards and challenges.