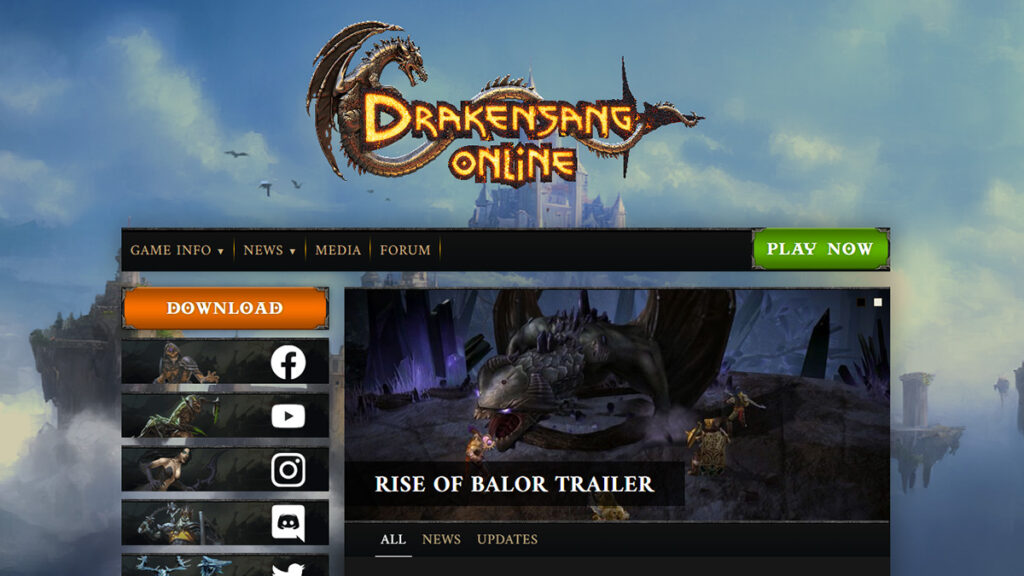 Welcome to the Drakensang Online universe. Set in a mythical world filled with dragons, mages, and a variety of other creatures, Drakensang Online immerses players in an epic tale of good versus evil. The world's vast landscapes, from dense, treacherous forests to towering, mist-shrouded mountains, provide a setting in which players can lose themselves, only to rediscover a part of themselves they never knew existed. The intricate designs and attention to detail within each region ensure that the visuals are not just an addition, but an essential part of the gameplay experience.
The Goal: Triumph over the darkness
At its core, Drakensang Online is a story of heroes standing against the overwhelming forces of darkness. As players traverse this world, they will face an array of menacing foes, from devious creatures lurking in the shadows to mighty bosses that require strategy, cooperation, and unparalleled skill to defeat.
The ultimate goal? To stem the tide of darkness and restore balance to a world teetering on the brink of chaos. While the primary narrative revolves around the epic confrontation between Light and Darkness, subplots and side missions weave into this tapestry, offering players a deeper understanding of the world and its inhabitants. Whether you embark on solo quests or join forces with other warriors, the game ensures that your journey will be filled with challenges, rewards, and unforgettable moments.
Getting Started in Drakensang Online
For newcomers to Drakensang Online, the game offers an intuitive onboarding experience. Choose your hero from several classes, each with unique abilities and play styles. Whether you prefer the brute strength of a warrior or the mystical arts of a wizard, there's a role for everyone. As you progress, you'll have the opportunity to upgrade your skills, weapons, and armor to further customize your character.
One of the most outstanding features of Drakensang Online is its community. As a browser-based game, it is accessible to a wide audience, which has fostered a global community of passionate players. Whether joining guilds, participating in large-scale PvP battles, or simply trading and chatting in the bustling town centers, the community aspect is undeniably a pillar of the game's enduring appeal.
Drakensang Online, an action MMORPG, offers a rich tapestry of characters for players to encounter and different classes for players to embody.
Playable Character Classes:
Dragon Knight: The quintessential warrior class, Dragonknights are powerful melee fighters who wield heavy weapons and wear heavy armor. They stand in the front lines, dealing significant damage and taking hits from enemies.
Spellweaver: Spellweavers are the mages of the world of Drakensang. They use arcane powers to summon spells that can damage enemies from afar. Their ability to harness elemental forces makes them formidable opponents.
Ranger: Nimble and accurate, rangers rely on their bows and arrows. They are adept at ranged combat, striking enemies from a distance while using quick movement to evade incoming attacks.
Steam Mechanicus: Unique to Drakensang Online, the Steam Mechanicus wields technological devices and weapons. This class provides a mix of mid-range firepower and mechanical devices to deal with enemies.
Dwarf: Introduced later in the game, dwarves offer a balanced play style. With a mix of melee and ranged abilities, they adapt to different combat situations.
Non-Playable Characters (NPCs) and Enemies:
Quest Givers: Throughout the game, players will encounter various NPCs who offer quests. These characters add depth to the story and guide players through the world of Drakensang.
Merchants and Traders: These NPCs offer equipment, potions, and other essential items in exchange for in-game currency or resources.
Enemies: The world of Drakensang Online is teeming with enemies. From undead creatures, dragons, and dark mages to a variety of beasts and monsters, players will face a wide range of enemies as they travel through the various regions.
Bosses: Scattered throughout the game are powerful boss characters that require strategy and often player cooperation to defeat.
Keep in mind that while this is a general overview, the game's universe is vast, and there are many more characters and entities that players will discover as they immerse themselves in the world of Drakensang Online. At a time when the gaming landscape is constantly evolving, Drakensang Online remains a testament to the potential of browser games. It challenges the notion that only large-scale console or PC games can offer depth, immersion, and high-quality visuals. With its compelling world, deep lore, and overarching goal of overcoming insurmountable odds, Drakensang Online is not just a game; it's an odyssey waiting for heroes to write their legends.