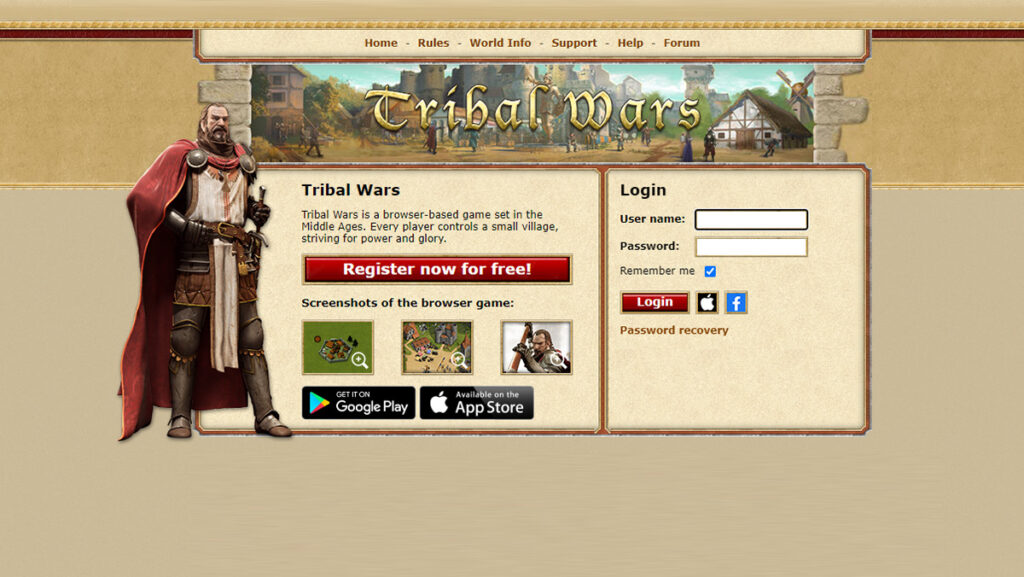 Tribal Wars is a free browser game that takes players into the dark Middle Ages, where each player is tasked with leading their own tribe, expanding villages and leading them to glory. Immerse yourself in a world where strategy, diplomacy and warfare skills determine dominance on the vast world map. Are you ready to forge alliances with other chieftains, repel enemy attacks and expand your territory in your quest to create the strongest empire? Tribal Wars isn't just about strength and strategy – the ability to negotiate, plan and cooperate with other players is also key to success. Shape the history of your tribe and leave your mark on the annals of the medieval world!
The World of Tribal Wars
Set in the Middle Ages, the world of Tribal Wars is a vast expanse of villages, each controlled by an individual player. The game does not take place in a fictional realm, but rather captures the essence of the early medieval period, where tribes were constantly fighting for supremacy. The landscape is dotted with wooden palaces, stone walls, and open fields, giving players a sense of a thriving medieval settlement.
As a player, you start with a small village. The environment may seem serene, but beneath the tranquility lies a brewing storm of conquest and battle. As you make your way through the game, you'll discover that this world is not just about building and expanding. It's about alliances and betrayal, where diplomacy can sometimes mean the difference between a thriving empire and a crumbling settlement.
Game mechanics and objectives
The ultimate goal of Tribal Wars is simple: grow your village, expand your territory, and become the dominant tribe in the game.
However, the road to dominance is a winding one. Players must build and upgrade their village's infrastructure, including barracks, farms, and mines, to ensure that their settlements are not only fortified against enemies, but also self-sufficient. Resources such as wood, clay, and iron are crucial, and managing them efficiently can mean the difference between thriving and merely surviving.
But the game isn't just about resource management and construction. Warfare is at the heart of Tribal Wars. Players must recruit and train armies, plan their strategies, and either cooperate with or declare war on other players. Forming alliances or "tribes" with other players can be a strategic move. These tribes work together, pooling resources, strategizing, and supporting each other in times of conflict.
Diplomacy and Strategy: The Twin Pillars of Success
While warfare and strategy are crucial, diplomacy holds its own in Tribal Wars. Players can forge alliances, negotiate peace treaties, and even engage in espionage to gain an advantage over their opponents. A well-timed alliance can turn the tide of a seemingly lost war, and a betrayed pact can lead to unexpected downfalls.
Every player in the game has their own agenda, their own strategies, and their own desires. This makes Tribal Wars a melting pot of ambitions, where every move can have far-reaching consequences.
In conclusion
Tribal Wars is an experience that teaches players strategy, patience, and the importance of alliances. It's a reflection of a time when wars were fought not just with swords, but with wits and cunning. For those seeking an immersive browser-based game that challenges both the intellect and the spirit, Tribal Wars is the pinnacle. Immerse yourself in its medieval world and you may find yourself captivated by its intricate mechanics and ever-evolving strategies.